Reproduction du discours de M. Vinton Cerf
President Fondateur de l'Internet Society
(Genève, le 7 octobre 1995)



Un extrait du discours de Vinton Cerf
à l'Internet Telecom - Genève 1995
:-)
10ème paragraphe...

... à propos de l'Internet...

«...J'ai aussi à relater certains effets sociaux plutôt inattendus de cette technologie. Dès lors qu'il existe tant et tant de moyens de communication, nous trouvons aujourd'hui un nouveau canal propre à permettre aux gens de se retrouver, alors qu'autrement ils n'en auraient pas eu l'occasion. A cet effet, j'ai une anecdote personnelle à vous raconter : il y a quelques semaines, ma mère, qui a 79 ans et utilise l'Internet, a reçu un message d'une jeune femme parisienne. Le nom de ma mère est Muriel Cerf et le nom de cette jeune femme - un écrivain français, célèbre - est aussi Muriel Cerf, qui adressait via l'Internet un message à ma mère, disant: "Bonjour, aurions-nous des liens familiaux?". Après avoir échangé toutes deux nombre d'informations généalogiques, ma mère, jeudi dernier, a pris l'avion pour Paris afin de rencontrer son homonyme. Cela ne serait jamais arrivé si le réseau et les emails n'étaient pas aujourd'hui aussi développés...»
Vinton Cerf, Genève 1995.
«...I also have to say that there are some rather unexpected social effects of this particular technology. Since it is a many to many communications medium we find people discovering each other when they would otherwise have no opportunity to do so. I have one personal anecdote to tell you. A few weeks ago, my mother, who is 79 years old and who uses the Internet, got an email message from a woman in Paris. My mother's name is Muriel Cerf. The woman in Paris, a well known French author, is named Muriel Cerf. She sent a message to my mother saying "Hello, are we related ?". Well it wasn't' clear but they exchanged a good deal of genealogical information and last Thursday my mother flew to Paris to meet her name sake in Paris, and this would never have happened had there not been a network and email addresses everywhere...»
Vinton Cerf, Geneva 1995.
en effet, en 1995,
les deux Muriel se sont retrouvées
dans les jardins du Palais Royal
en souvenir de Colette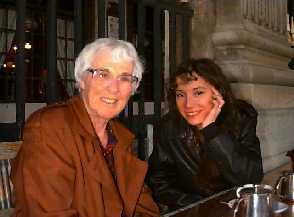 Muriel Cerf & Muriel Cerf
© D.R. 1995, Paris - France.
| | | |
| --- | --- | --- |
| | | |
| | | |
| 1 | | |
| 2 | | |
| 3 | | |
| 4 | | |
| 5 | | |
| 6 | | |
| 7 | | |
| 8 | | |
| 9 | | |
| 10 | | |
| 11 | | |
| 12 | | |
| 13 | | |
| 14 | | |
| 15 | | |
| 16 | | |
| 17 | | |
| 18 | | |
| 19 | | |
| 20 | | |
| 21 | | |
| 22 | | |
| | | |



Ce site n'engage que la responsabilité de l'auteur et du webmaster.
© 1994 - 2006, Stephane Pietri a.k.a RootCat - All rights reserved - Tous droits réservés.
i.e. versions 1.0 (1994-05) a.ka 27.5.1994 - actual version X 12.01.01 (01/2006)
12ème année - rootcat.net - rootcat@murielcerf.com . updated : 1 1 2006